Why newspapers tend to mimic their competitors and how this affects media's ability to play a critical role in society
As the world has sadly come to know, Charlie Hebdo is the satirical weekly tabloid that was attacked by two radical Islamist gunmen on Wednesday last week. Altogether 17 people were killed in terrorist attacks in Paris, including those at newspaper Charlie Hebdo and a kosher supermarket. I am not going to discuss here any details, as I am sure that my informed readers know better sources than this blog to stay up-to-date. 'Je suis Charlie' quickly became a declaration of solidarity and grief, displayed all over the world, whether on kiosks, headbands, twitter profile pictures or even at the Golden Globes. As the New York Time writes, there is much that can and should be discussed as a result of the tragedy – about freedom of the press, about the growing backlash across Europe against Muslim immigrants, about fundamentalism.
As I am currently reading loads of journal articles about media monitoring, changes in newsroom production and cross media, which actually made me write about Charlie Hebdo, there is another aspect I want to comment on, probably because I am more specialized in this specific topic than in the other ones mentioned. My twitter timeline is full of #charliehebdo, people are commenting, arguing and sharing the cover of the latest issue like crazy, which will be printed 3.000.000 times (instead of 60.000) and delivered to 25 countries today. DerStandard.at is showing three articles about CharlieHebdo on its website, at the online appearance of ORF I can read headlines from "Nach Anschlag: Charlie Hebdo Cover mit Mohammed", "Islamisten hacken US-Zentralkommando" to "Radikalisierung: Terrorzellen aus dem Gefängnis".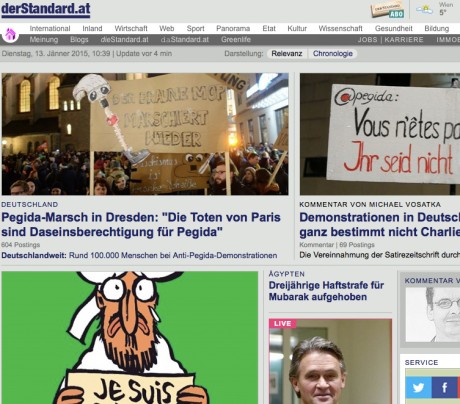 What is happening seems quite clear: There is not one comparable event that seems to be as important as the latest attacks in Paris, you can observe that easily by googeling or accessing newspapers all over the world.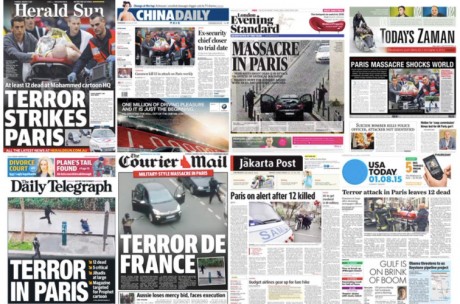 The question I am trying to answer is why media players are mirroring what other players do and how this affects diversity of content. Although I know that Charlie Hebdo isn't the best topic to apply this theory on, it was my motivation to explain some of the general mechanisms behind journalistic mimicry.
It's an automatic mechanical practice… You get in and out of the web constantly… I probably look at the New York Times twenty times a day
Inés Capdevila states. She is deputy editor of the foreign desk at La Nación, argentina's quality newspaper.
Monitoring other media and imitating some of their stories have been routine activities in news production. Journalists have to deal with two recent changes. First, there has been an increase in journalists' use of technology to learn about the stories competitors and other players are working on. Journalists have access to a greater volume of potentially relevant information. Second, This greater technology use and information access has been tied to an intensification of monitoring and an expansion of imitation in the newsroom.
Capdevila decides what to publish because her main competitor, Clarín, will do the same. News institutions monitor one another all the time. According to Bourdieu (1998) this is because journalists often operate under the assumption that "to know what to say, you have to know what everyone else had said."
Information gathered by journalists during monitoring activities often leads them to mimic their competitors and other members of their organizational field. Each journalist knows that his editor is watching the competitive newspapers and is evaluating what he produces in relation to that. If all competitors produce the same story for the day, then each editor assumes his reporter has done a good job. Capdevila knew what Clarín was planning for the next day by simply looking at Clarin.com the late afternoon. The rise in mimicry is a result, in part, of a combination of more content availability and reputation dynamics in which a journalist might be published if he or she misses a story. There is a general tendency among journalists to go with the flock and there is a great fear to be different.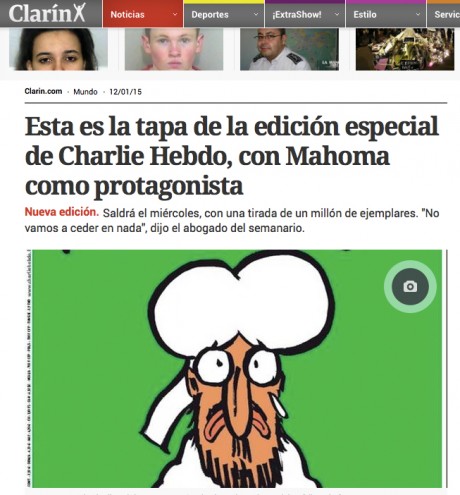 Technological developments are tied to transformations in factors that affect monitoring and imitation. The transformations include a decrease in traditional information-gathering routines that contributes to a parallel decrease in face-to-face interaction among journalists and an increase in the volume of information available to news workers through mediated sources.
Clarin.com and Lanacion.com initially carried primarily the news content of their print counterparts. This was a dominant practice in 2000. Things changed a lot until the late 2000s, when newspapers realized that it is no longer enough to simply upload the printed newspaper's content to their website.
Scholars have often highlighted the negative social consequences of pervasive imitation in the construction of news. The analysis brings together these themes of critique, diversity and the public sphere with concerns about the consequences of imitation in the news production. The better that media actors are able to see when they observe their journalistic field and select and construct stories by mirroring what other players do, the more likely it might be that the resulting news products will decrease the diversity of content that citizens need to deliberate and participate in public affairs.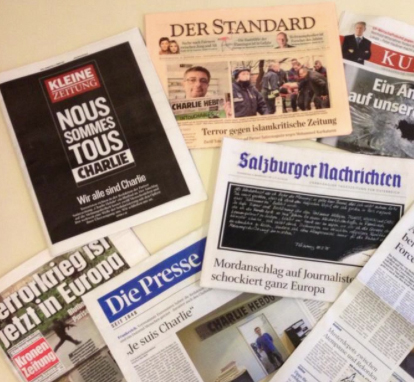 Further reading:
Pablo Boczkowski, 2010: News At Work. Imitation in an Age of Information Abundance