Currently I am writing a paper about Beyoncé's feminist approach in her latest album, which led me to an interesting journal article from Aisha Durham. In 'Check on it. Beyoncé, Southern booty, and Black feminities in music videos' the author writes about intersecting discourses of racialized sexuality and gender. Durham highlights the particular constraints that exist for Black girls and women who also want to express their sexuality within a society where Black bodies are always already marked as deviant. As problematic as this might be itself, there is another thing that caught my attention while reading.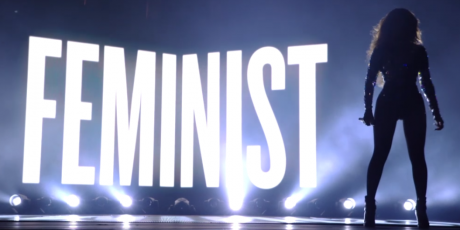 Does anyone remember the song 'Nasty Girl' (2002)? In Destiny's Child's music video Beyoncé watches 'scantily-clad women on television, and later admonishes them in lyrics linking their style choices to promiscuity', Durham claims.
Whether Beyoncé was simple a product of the globally successful Viacom company at that time or not, it is quite annoying to detect slutshaming in her (their) music videos. As if your choice of clothes would legitimize sexual assaults, so girl you better go and put some clothes on, ya ('Her pants hangin' low, she never says no. Everyone knows she's easy'). For those of you who have not seen the video yet, I embedded the link and the lyrics.
You's a nasty, nasty, trashy, nasty
Sleazy, nasty classless, nasty
Nasty put some clothes on, I told ya
Don't walk out your house without your clothes on, I told ya
Girl what you thinkin' bout lookin' that to' down, I told ya
These men don't want no hot female that's
Been around the block female, you nasty girl
Beyoncé advices these women to 'put some clothes on' because men obviously don't want a woman that has been 'around the block'. In the end the stereotyped women become transformed morally through fashion, getting their respectability back by adopting the style and dance performances of Destiny's Child. It is interesting that, at no point, Beyoncé's own sexualized image is implicated in the reproduction of working class femininity from her fashion choices and booty dances.
The back alley battle that takes place (Lose My Breath) between the so-called lady and the ghetto girl serves as a compelling metaphor to describe the simultaneous respectable and sexually accessible womanhood that Black female artists must perform. (Durham 2012, 41)
Discussing Beyoncé's performances and videos from a feminist point of view, we have to keep certain things in mind. It can be hard for audiences to distinguish between Beyoncé's own controlled and publicly expressed body-enjoyment, and the sexual power which might also be granted from male desire, which would not be feminist at all. Either way, Emerson (2002) counters that it is possible to describe simultaneous hegemonic and counterhegemonic performances that 'reify the so-called hypersexuality of the Black female body at the same time creating ruptures in the way that Black sexuality is represented in the popular.' Emerson (2002) admits that Beyoncé emerged during a period of negotiation and used her music videos to 'construct a complex version of femininity that is in conversation with contemporary Black female stereotypes in hip hop, such as the respectable, race-loyal queen and the promiscuous, classless ho.'
'Nasty where's your pride, you should be ashamed.' Nonetheless I really wished the 2014-Beyoncé would have given a statement about that, rather than integrating Ted Talks randomly to her newly invented feminist performance and saying things like 'I have nothing to say, but I'm filled with so much gratitude. I just thank God for this moment' at the end of the VMAs.
Will be continued.
Durham, A. 2012. 'Check on it' Beyoncé, Southern booty, and Black femininities in music videos. In: Feminist Media Studies, Vol. 12, No. 1